Seems expanding the good old lightsmith editor and that part of the sIBL fileformat is the way to go:

Advantages:
- Easy to read and adapt
- The planed data volume is accepteable for a txt file / the amount of new parameters is not that big (less than 10 if things go well)
- Saves some programming time
- Encourrage others providing using lightsmith edit to profile their lights
- Could be the first step to enhance the sIBL sets to a full set / scene environment documentation and preset system
for real and virtual environments.

Done some intial ui programming, wich is allways a good way to provide your ideas some structure.
I plan to get the fileformat and rudimentary profiling done at this and the next weekend with some
intial tests. If things work out like I think it will it would be even possible to profile gels

Still wrapping my head on the profiling system...one roadbump wich makes me worry is:
if you are using an hdri for profiling, how to make sure its a consistent input usuable for callibration.
Progress Report #2
Things progress more slowly than I thought, fighting some interface issues / setting up internal data structures.
But future me will be very thankfull in doing so.
Screenshot of the new measurement section of lightsmith edit should give you an idea of, what and how,
these stored data will be correlated with an hdri / dmx outout in future...things will change, for
example: I'll put the spectrum inside the other light channel definitions, had an idea to make it an extra defintion at the
end of the sIBL file, to help readeability, but its not worth the trouble for now.
So now a bit more than half a day is needed for the data management (add/remove/load/save) and
some interface stuff, and then we can start the fun part: The actual Calibration, but since
real life work needs my attention I will only do it next weekend if things work out.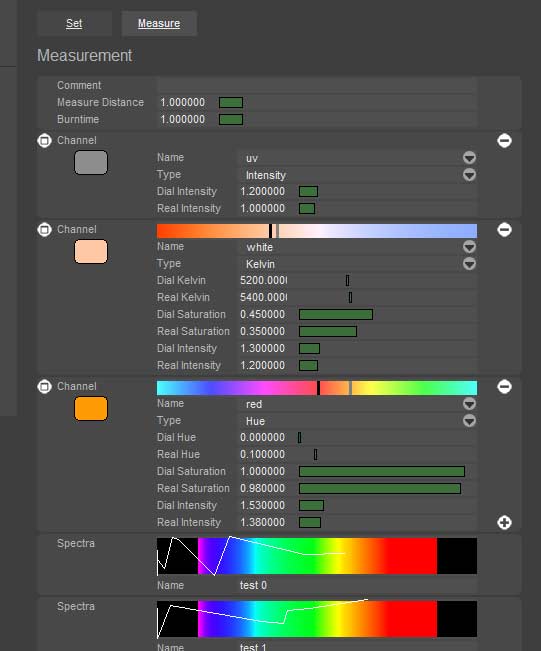 Done loading / saving and adding / removing channel definitions, currently I do have new section and 6 parameters to the lightsmith file
(Also finaly fixed the pesky bug with my custom comboboxes and made it optionally possible to enter a different text value than the aviable choices..
needed for the channel names)
[Measurement] Start new channel set
MSname string name of the channel
MStype int Type of channel currently 0 for linear bw gradient, 1 for kelvin value, and 2 for hue channel (Required)
MSColor float,float the hue value dialed in and real output hue separated by comma. (RGB calculation is currently done in reader
       might be changed in future
MSSaturation float,float the saturation dialed and real output.
MSIntensity float,float the dialed in and actual intensity
MSspectrum float,float one set of values of the spectrum (wavelength) and intensity at that channel and inensity. The amount of MSspectrum
                       values is variable.
Each channel can be added multiple times with different values
(For example Different real output values and spectra for low and high kelvin values etc)
The dmx app will interpolate between these values. (at least thats planed)
Also my cheapest of the cheap spectrometer arrived
https://thunderoptics.fr/product/mini/?v=11aedd0e4327
its nowhere accurate,and you need to calibrate it yourself wich cost me a few hours of dev time. But it might be good enough to counter check other calibration methods Ive planed.
So I changed the look of the spectrum, and did some initial import of the spectrum. More formats will be added once things work.
and a comparison of what the spectrometer sees and what is displayed in lightsmith (manually scaled and moved)
so I'm sure there is not bug in that area.

Don't think I'll do something on it tomorrow, so next weekend I plan to do pseduo spectras from different inputs, and see how well I can calculate
the original emission color from them
Since late shift does have a great toll on my energy levels, I could not do much this weekend.

I created the initial prototype of the sIBLstage application wich has the basic
hdr load and display functionality, plus a initial implementation of the dmx control
(to see if things work)
(lightsmithedit progress happens once I can cross check the output correctly)




The controller I'm using is based on a FT232RL chip, wich is widely used, and
very cheap to get your hands on. The light is a cheap rgbwauv stage light from china
Wich is perfect, since it sets the programming path to the hardest way possible.
(HSV controled lights are easier to implment)

Next I focus on the lightsmith / normal light loading / editing, then I do some work on the dmx
side, and after that I focus on calibration and color rendition of a rgb hdri with more than 3 channels.
And last but not least I look into android codiing for the
lightcatcher app... wich I'm still not sure if this is even doable.
---
Permissions in this forum:
You
can
reply to topics in this forum